Jessica, Financial Coordinator, Dental Assistant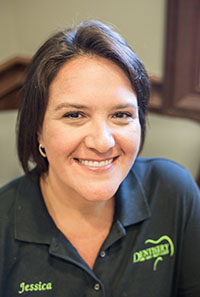 Jessica is skilled in multiple areas of dentisty. She has been a Certified Dental Assistant since 1998 and has taken on several administrative duties here at Dentistry on the Square. She has a passion for dentistry and is dedicated to helping our patients attain optimal dental health. "I love the instant results that can be life changing for patients."
In her free time Jessica enjoys spending time outdoors with her two children and her many pets, as well as visiting the beautiful Florida beaches as often as possible.
Jennifer Tyler, Office Manager, Dental Assistant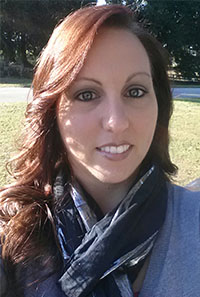 Jennifer has been in the dental field for 17 years begining as a sterilization technician, Dental Assistant, Financial & Patient Coordinator, and Office Manager. She recently received her fellowship from AADOM (American Association of Dental Office Management). She oversees Patient Services and maintains daily operations for the practice. She graduated from Gulf Coast Community College with training in Expanded Functions and Radiology. She also is a member of FEMORS (Florida Emergency Mortuary Response System) and has been a Forensic Dental Assistant since 2003.
Jennifer and her husband Brent have 3 children, thier daughter Alexis is studying Forensic Anthropology at Florida Gulf Coast University, son Sean is currnetly serving in the US Navy, and Shayne is attending the Villages Charter School. In her free time Jennifer enjoys spending time with family and friends, trips to our beautiful Florida beaches, and riding atv's.
"We shall pass through life but once, let us show kindness, as we will never pass this way again."
Jill, Dental Assistant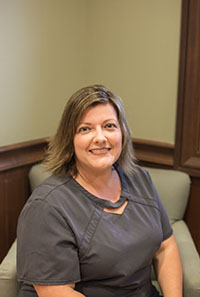 Jill has been an enthusiastic Dental Assistant since 1999. She moved to Central Florida from Kokomo Indiana (Go Hoosiers!!). Jill earned her Associates Degree and Certificate in Dental Assisting from Indiana University Kokoma. We were fortunate to welcome Jill to our team in 2016. Continuing education is important to Jill, she has taken several courses at LVI in Las Vegas along with coursework specializing in cosmetic dentistry. It is very rewarding to help people improve thier smile!!
When Jill is at home she enjoys spending time with her husband who is a Wild Land Firefighter, her four children, and her black lab. She also enjoys spending time with family and friends on the lake, youth activities, and annual family trips.
"Be adaptable, flexible, and never stop learning. The rate of change will never stop and niether should you."
Natalie, Dental Hygienist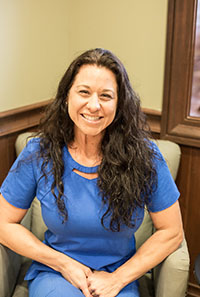 Natalie is experienced in multiple aspects of dentistry including dental hygiene, assisting, front office administrative and office management. She began her in career in the dental field in 1999, first attending school for dental assisting at Central Florida College and then continuing her education at Santa Fe Community College earning her dental hygiene degree. She has a passion for integrating oral and over all health. She also loves to discuss nutrition and fitness but enjoys getting to know her patients the most.
When Natalie isn't caring for her patients you can probably find her in the gym. She is a weightlifter and body builder holding a state record for weight lifting in the Masters division as well as being a national qualified body builder. She also enjoys spending time with her boyfriend and 3 dogs.
Rayna, Dental Hygienist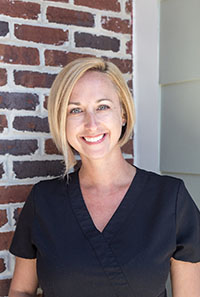 Always ready to greet you with a smile Rayna brings 16 years of experience to her position here at Dentistry on the Square. She originally began working in the dental field as a certified dental assistant graduating from College of Central Florida. Rayna decided to further her education in 2008 when she graduated from Santa Fe College where she earned her Associate of Science degree in Dental Hygiene.
Rayna loves working with our outstanding team of ccaring professionals. She strives to be as thorough as possible and compassionately explains everything step by step to ensure optimal patient comfort and understanding. She focuses on patient care and treating every patient individually. Rayna enjoys all aspects of dentistry making it a priority to be current on the latest technology and techniques in dentistry.
When not working Rayna enjoys spending time with her family, listening to music, fishing, and hanging out on the beach.
Ashley Roussin, Patient Coordinator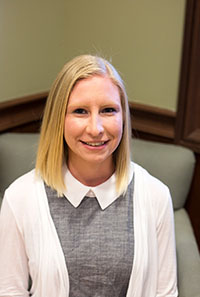 Ashley found her way into the dental field through her passion for helping others. As Dentistry on the Square's Scheduling Coordinator her job includes greeting patients, scheduling appointments, patient communications, and verifying insurances, among other administrative duties. The most rewarding part of Ashley's job is contributing to ensure the best possible experience for our patients from the time they walk in the door and throughout the entire visit. Ashley continually strives for excellence in all she does at Dentistry on the Square and works to build trust with all our patients.
Ashley has an associate's degree in Business Administration with a concentration in Healthcare Management. She was born and raised in Vermont and relocated to Summerfield with her husband and two children Macie & Jacob. Ashley's husband is an Army veteran and they were stationed in many places around the United States including Alaska and Louisiana. When she's not at worl Ashley enjoys spending time with her family, going to the beach, and asmusement parks and just enjoying life!
Reuben Dunseath, Sterilization Technician